Please note that this post contains affiliate links and I may be compensated if purchases are made by clicking links.
The Fenty Puma by Rihanna bow slide sandals are a fun twist on the sporty sandal trend. The satin bow detail (inspired by the romance and grandeur of 18th century France) juxtaposed with the sporty sole makes them easy to dress up or wear casually. With the strong influence of activewear in the fashion industry, it's no wonder they're hugely popular, especially in the millennial pink colorway. Priced at $90, they feature a pretty satin bow, satin foam backing, and comfy footbed with Puma logo. They also come in marshmallow white, which is perfect for summer.
If you've been unsuccessful in finding a pair because they are sold out, or if you're looking for a more affordable version, there are many look alikes under $70 from trend-conscious brands such as Steve Madden, Jeffrey Campbell, and Cape Robbin. I've selected a few of my favorite styles that come in many color options. In fact, I just ordered this Sam Edelman style in grey on sale.
Here's how to get the Fenty Puma by Rihanna bow slide sandal look for less.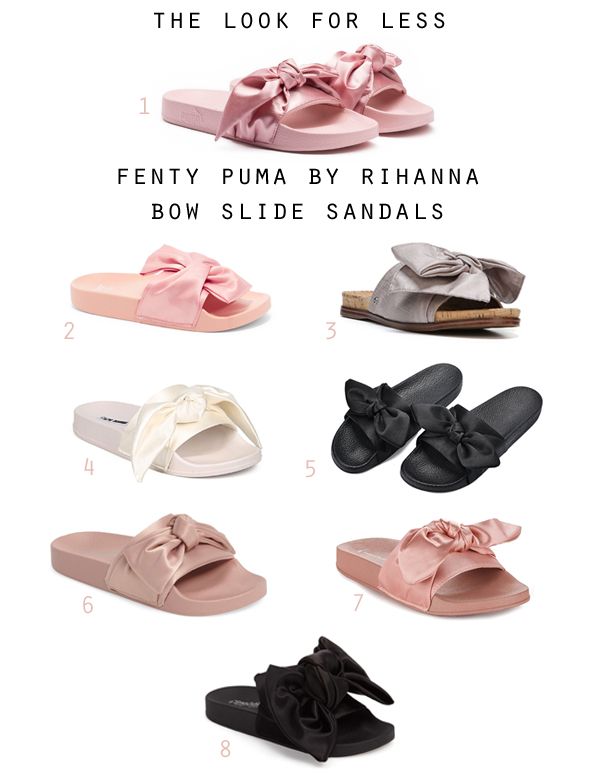 1. Fenty Puma by Rihanna bow sandals, $90 (also here in marshmallow or here in olive green)
2. New York & Co. bow sandal, $17.97 (also in black)
3. Sam Edelman 'Henna' bow sandal, $62.96 (also available here)
4. Cape Robbin bow sandals, $32.99
5. Bow slides, $19.99 (also in champagne, green, and pink)
6. Steve Madden 'Silky' sandal, $39.95 (other colors available)
7. ROF slide sandals, $24.99
8. Jeffrey Campbell 'Jova' sandal, $69.95 (other colors available)
July 16, 2017 update - Shop this new style pictured below under $25 by Mossimo: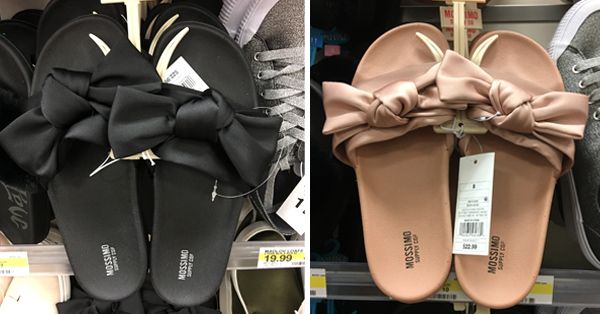 Shop bow slides under $26:

More options:

Outfit ideas:


Shop bow slides: